NMS8260 prototype
The NMS8260 (property of Albert Buurmeijer, who gave permission to make these photographs) is a prototype MSX computer made for Philips by JVC.
The specifications are:
A standard NMS8250 (although this case was originally white!) with no alterations.
The floppy drive(s) have been removed, black plates cover the holes.
JVC propietary hard disk drive, 20 MB capacity
JVC standard hard disk controller board.
MSX to hard disk controller board, constructed on experimenters board, underneath the JVC board, with a HDD disk rom (see the ROM dumps page)
The top MSX cartridge slotconnector on the side is removed, and a flatcable soldered on it leading to the MSX hard disk. So the HDD is in the (unexpanded) external cartridge slot 2.
A floppy drive connector is screwed on the now empty slot as you can see on the photos, and connected via flatcable to the NMS8250 board to the standard floppy interface connector.
Since the HDD is in slot 2, it boots as the first diskrom, drive A:.
If a floppy drive is connected, the standard NSM8250 diskrom adds drive C: en D: as floppy drives.
Standard Disk Basic and MSX DOS 1. So no subdirectories!
One partition on the hard disk, FAT12 formatted, size 20 MB.
The cables visible are:
multicolered 50 wires flatcable, from top slot 2 on the side to the MSX to HDD board.
multicolered 26 wire flatcable between JVC HDD disk and JVC disk controller board.
grey 34 wire flatcable from floppy cpoontroller connector to the screwed on floppy connector on top slot.
The JVC hard disk shows at boot a message (see last photo), mentioning the HC-95/90, a Victor /JVC MSX 2 computer with superimpose facilities. This may indicate that JVC did experiment also with this hard disk interface on the JVC HC 95.
Contrary to the VG8240, on the outside this MSX looks like, and is labeled as a NMS8250. The blank plates and the (ugly) floppy connector is all what is visible. 'NMS8260' may have been an internal projectname, since this machine is never mass produced and sold.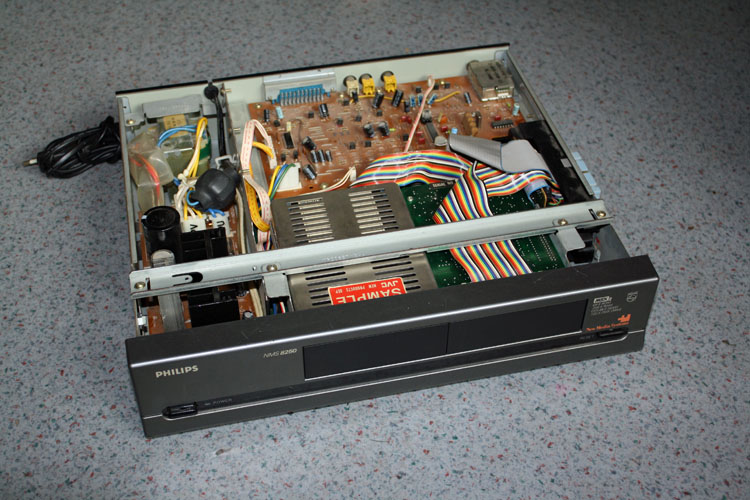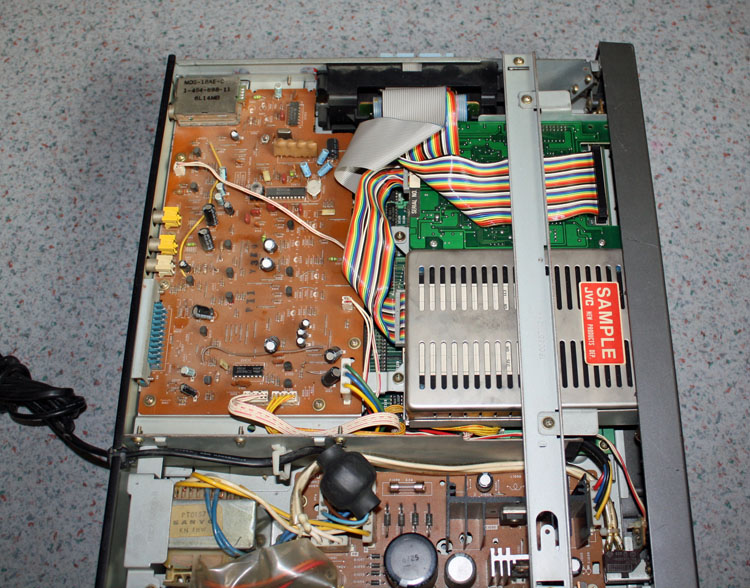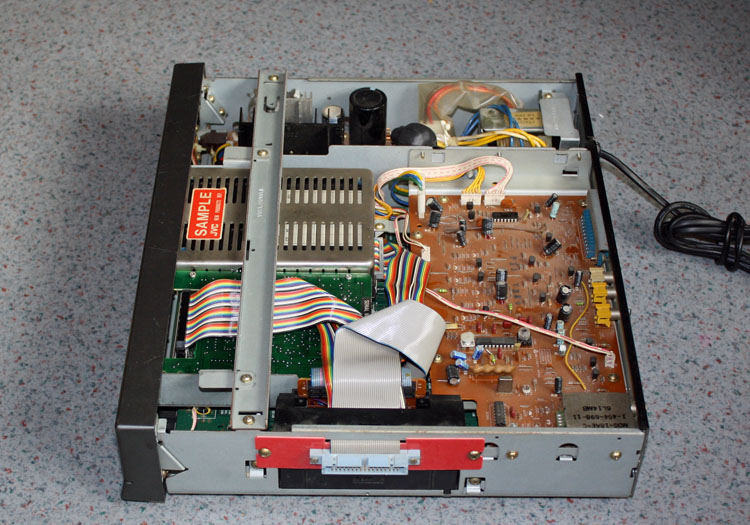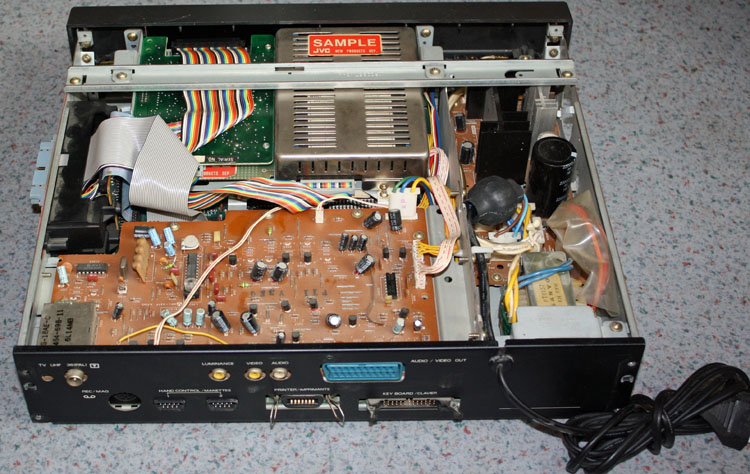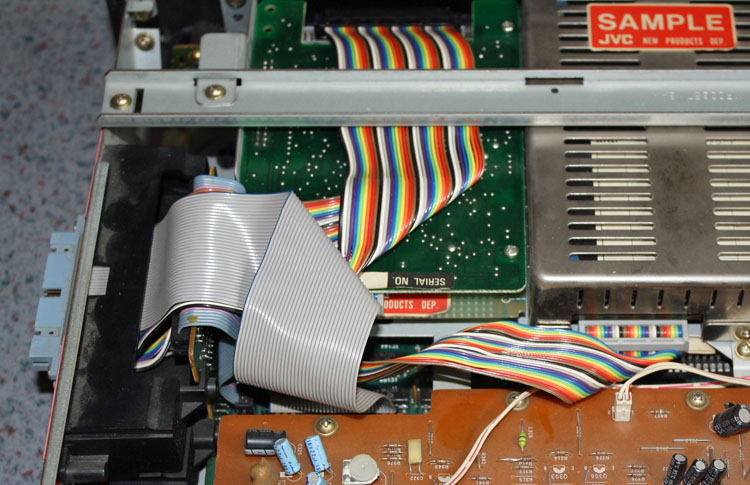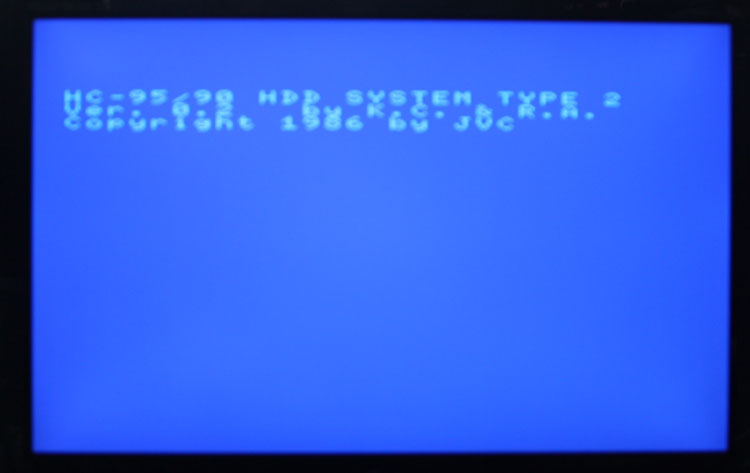 JVC Hard disk (likely JD-3824G)
3.5″ 20MB Hard Disk Drive
JVC original interface (26 pin), requires a special controller board.
Pin 1 GND
Pin 2 -Read Data
Pin 3 GND
Pin 4 -Write data
Pin 5 GND
Pin 6 Reserved
Pin 7 -Drive Select/+Power Save
Pin 8 -Ship Ready
Pin 9 GND
Pin 10 +Read/-Write control
Pin 11 -Motor On
Pin 12 Head Select (+ Head 0/ – Head1)
Pin 13 -Direction In
Pin 14 -Step
Pin 15 -Write Fault
Pin 16 -Seek Complete
Pin 17 -Servo Gate
Pin 18 -Index
Pin 19 -Track 000
Pin 20 -Drive Ready
Pin 21 GND
Pin 22 +5V
Pin 23 GND
Pin 24 +5V
Pin 25 GND
Pin 26 +12V
Parameters( 2 heads, 34 sectors, 615 cylinders) 2-7 RLL coding Spindle Rotation: 2597 rpm Data Transfer: 7.5M bps Average Access: 78ms Power Voltage: 5V and 12V