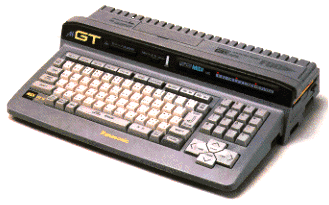 The final manufactured and most advanced MSX computer is the MSX turboR, available in two types:
Panasonic FS-A1ST MSX turbo R , R800 cpu, 128K, MSX2+ video
Panasonic FS-A1GT MSX turbo R with 512K memory, SRAM disk and a midi interface
These machines were only made for the Japanese market, so buying and using the MSX turbo R in other countries was a bit of a challenge. For example: the builtin software is in Japanese, the documentation is in Japanese.
Users in the Netherlands (there has been a very active import circuit) have written down instructions and impressions. This is to be found in the magazines section.
Technical info

Floppy disk controller (email from the MSX mailing list), register info
Repair the floppy disk drive (magazine article, emails from the MSX mailing list, web pages): working and tested instructions in english and dutch how to repair a drive, add a second drive and/or replace it. Also see the article on repairing the floppy disk drive in the MSX.

Replace the belt of a floppy disk drive in the turboR: picture instructions

turboR ST service manual



turboR ST service manual

turboR GT service manual black and white small version,

big version (120MB!)in color

MSX turboR Technical Hand Book in pdf format

MSX turboR Technical Hand Book in jpg format (scanned by Takamichi)